So, I don't mind admitting, this week's project was a little silly, but we made up for it with the sub and Patreon only stream on Sunday. 
A couple of years ago, around Christmas time, I drew a weird, buff, Santa Claus. it looked like this: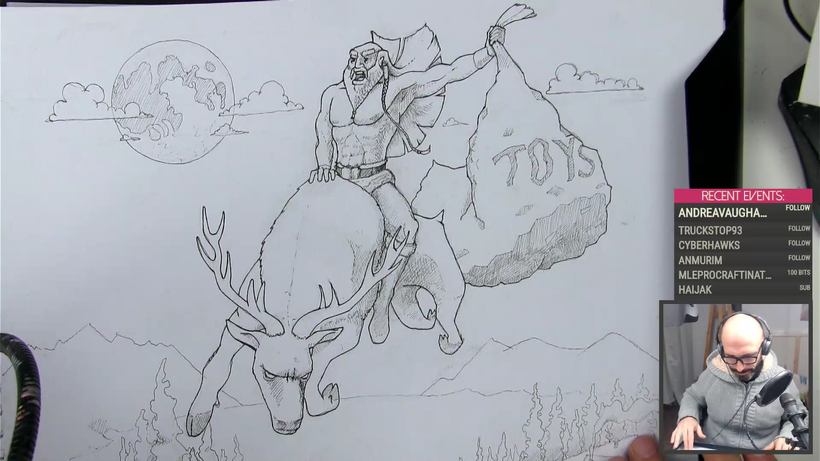 I was aiming for badass, and admittedly, I hit weirdly homoerotic… So what did I decide to work on this time? Well, wildly homoerotic Santa part 2, but with the dial cranked up a bit.
Monday 29th of November
So on this stream, I set sail on the rocky road of upping my Sexy Santa game by basing the illustration on the work of Boris Vallejo. He's a Peruvian-American painter who works in the science fiction, fantasy, and erotica genres. You've definitely seen his work somewhere, book covers, movie posters, etc. I first encountered his paintings with the National Lampoons Vacation movie poster. His work is all muscle, boobs, and scantily clad women, not all of it very politically correct by today's standards, but fuck it, the perfect style for what I wanted. 
Here's how that streams work finished, Vallejo would have been proud: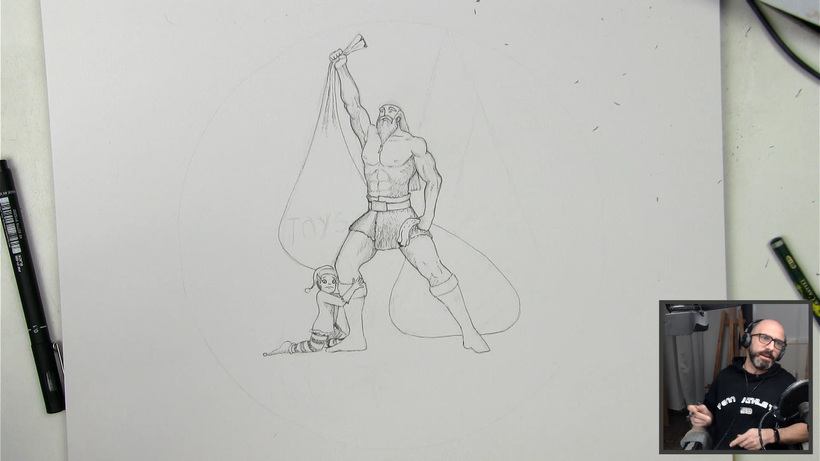 Tuesday the 30th of November
I was happy with the previous day's work but there was something missing. 
The first Sexy Santa I drew wasn't very Christmassy, and there was little to identify Santa as Santa, apart from a beard and a sack full of toys. I wanted the piece to feel somewhat appropriate on a Christmas card, so I started adding Christmassy elements, namely a tree and reindeer. followed by some outlining to make the foreground pop.
Here's how it turned out: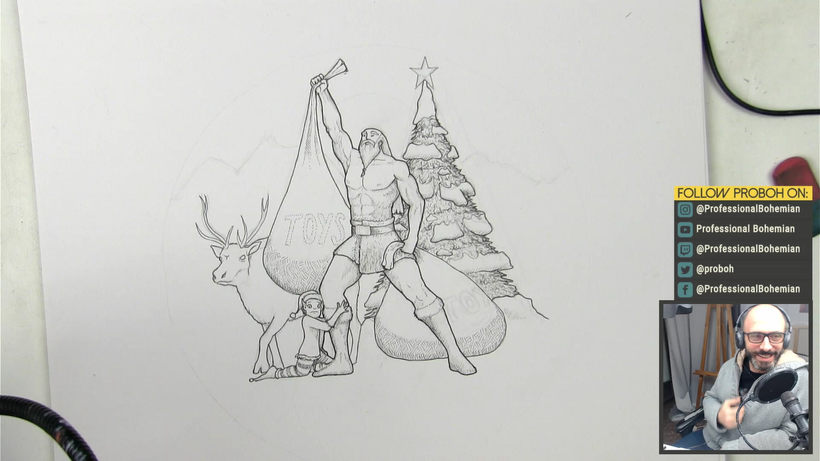 Thursday the 2nd of December
The final session was all about the background and a few additional Christmassy foreground elements. I went simple for the background given I wanted Daddy Claus and his entourage to take center stage, so it was snow-covered mountains with a sky dotted with fluffy clouds. I added a North Pole (even though there are no mountains in the north pole, so sue me) and a Christmas gift in the far foreground and we called it done. Here's how it looked in the end:
Hope you enjoyed the work, my dear patrons. I'll catch you all next time for more madness! 
Así que, no me importa admitirlo, el proyecto de esta semana fue un poco tonto, pero lo compensamos con el stream del domingo, sólo para sub y Patreon. 
Hace un par de años, en la época navideña, dibujé un Papá Noel raro y musculoso, con este aspecto: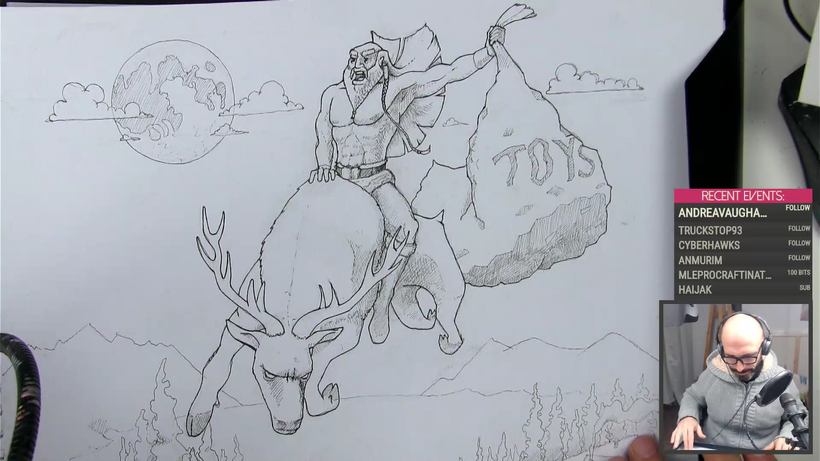 Quería que fuera un malote, y hay que admitir que le di un toque homoerótico… Entonces, ¿en qué decidí trabajar esta vez? Bueno, el Papá Noel homoerótico de la segunda parte, pero con el dial un poco más alto.
Lunes 29 de noviembre
Así que en esta corriente, me embarqué en el rocoso camino de aumentar mi juego de Sexy Santa basando la ilustración en la obra de Boris Vallejo. Es un pintor peruano-estadounidense que trabaja en los géneros de ciencia ficción, fantasía y erótica. Seguro que has visto su obra en alguna parte, portadas de libros, carteles de películas, etc. La primera vez que conocí sus pinturas fue con el cartel de la película National Lampoons Vacation. Su trabajo es todo músculo, tetas y mujeres con poca ropa, no todo muy políticamente correcto para los estándares de hoy en día, pero a la mierda, el estilo perfecto para lo que yo quería. 
Así es como terminó el trabajo de los arroyos, Vallejo habría estado orgulloso: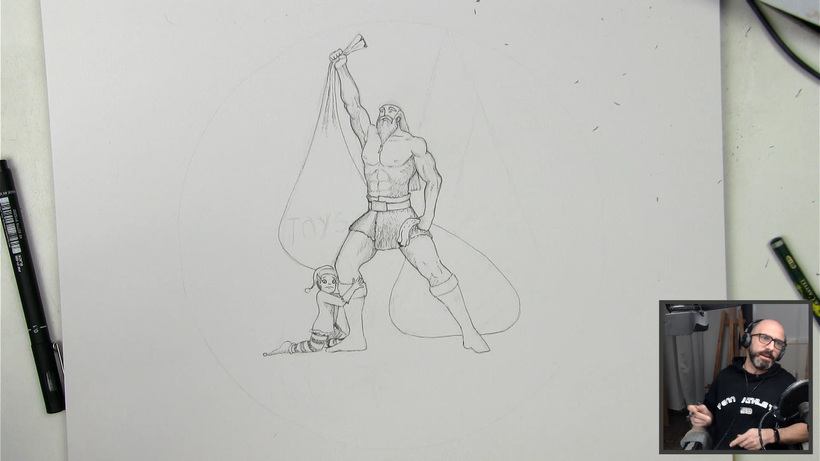 Martes 30 de noviembre
Estaba contento con el trabajo del día anterior pero me faltaba algo. 
El primer Papá Noel Sexy que dibujé no era muy navideño, y había pocas cosas que identificaran a Papá Noel como tal, aparte de una barba y un saco lleno de juguetes. Quería que la pieza pareciera apropiada para una tarjeta de Navidad, así que empecé a añadir elementos navideños, como un árbol y un reno, y luego a perfilar el primer plano.
Este es el resultado: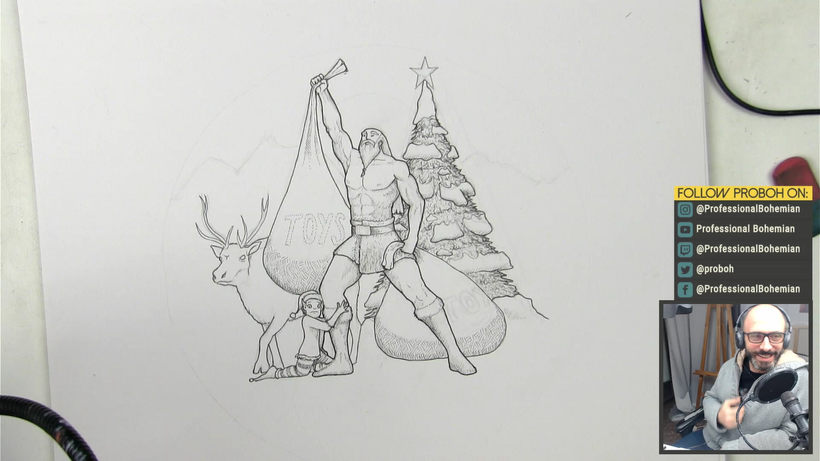 Jueves 2 de diciembre
La última sesión se centró en el fondo y en algunos elementos navideños adicionales del primer plano. El fondo fue sencillo, ya que quería que Papá Noel y su séquito fueran los protagonistas, así que las montañas estaban cubiertas de nieve y el cielo salpicado de nubes. Añadí un polo norte (aunque no hay montañas en el polo norte, así que demándame) y un regalo de Navidad en el primer plano y lo dimos por terminado. Este es el resultado final:
Espero que os haya gustado el trabajo, mis queridos mecenas. Os espero a todos la próxima vez para más locuras